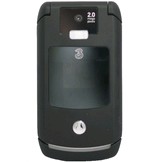 Features:

Size 99 x 53 x 19.6 mm, 125g
Main Camera 2 megapixel
Battery TBA
MP3 File player Yes
Java Yes, 3D enhanced games
Bluetooth Yes
Memory microSD/Transflash memory (expandable to 512Mb)
The handset's intuitive multimedia offerings include: real-time 2-way video calling, multimedia streaming, still and moving image capture and editing, large color display, 3D graphics acceleration, WAP browser, MP3 with surround sound and video playback and voice recognition.. Additionally, the Motorola V1150 features SCREEN3, an innovative technology solution from Motorola that gives you zero-click access to news, sports, entertainment, and other premium content directly from your mobile device home screen – no buttons to push, no browsers to launch. Motorola's SCREEN3 puts fresh content at your fingertips. A 2 mega-pixel camera, Bluetooth® wireless technology and removable memory add to this lengthy feature set. Strutting a sleek, slim design and premium functionality, the Motorola V1150 / RAZR V3x exudes multimedia perfection.
Creative liberty:
Two cameras are better than one. Open up a world of mobile visual imagery with a 2 mega-pixel camera to capture still and moving images combined with a VGA camera for 2-way video calling. Extend your mobile artistry further with editing capabilities, allowing you to manipulate images and then share via Multimedia Messaging Service (MMS)
Patience not required:
Choose to rely on the Motorola V1150 to streamline your information and make life easier. Enjoy non-stop access to current events, news and celebrity gossip via Motorola's dynamic idle solution. And, Bluetooth connectivity furthers convenience by allowing the ability to talk hands-free using compatible Bluetooth enabled accessories.
Get blown away:
With progressive downloading, you can download media files and view them almost instantaneously, or store them and view at your convenience. Still not impressed? 3D graphics energize your gaming entertainment, making each twist, turn and supersonic blast seem real. And with up to 512 megabytes (MB) of optional removable memory, you can download and store music, games and videos from dusk till dawn.