Get a fresh new point of view with the stylish Nokia Wireless Image Headset. Leave your phone in your pocket or bag - the headset connects using Bluetooth wireless technology.
 See who's calling before you answer. Import your phonebook, browse the list of up to 250 entries using the five-way joystick and add or edit names and numbers with the simple text editor. Select a name to make a call or dial with your voice - just say a name stored in the headset phonebook.

A New Image
What makes the Nokia Wireless Image Headset really stand out from the crowd is the 128 x 128-pixel 4,096-color display. Transfer images from your compatible device with Bluetooth wireless technology to display as wallpapers or slide shows, or type a short message to put on view for all to see.
Connect in Style
The design focuses on the bright color display and discreet joystick, surrounded by a black and chrome casing and attached earpiece. Worn around the neck, the Wireless Image Headset can be as subtle or as striking as you want to make it.


Key Features:
Color display for viewing phone book and the names or numbers of callers
Wireless handsfree call handling
View and share text or images on the 128 x 128-pixel color display
Speaker-independent voice dialing (accepts commands from multiple speakers)
Phonebook transfer via Bluetooth wireless technology from compatible phone to the Wireless Image Headset
Display modes: Single image, slide show, or text
Simple text editor for editing phonebook, naming images, or creating display texts
Convenient to carry: strap included to hang around your neck

Available:
Planned availability in the 4th quarter of 2004
Type HS-13W
Weight Ca 57 g (incl. strap)
Dimensions (main body) 62.8 x 45.3 x 15.4 mm
Display 128 x 128 pixels, 4,096 colors
Memory for data Ca 500 KB for images, 250 names with 2 numbers each for phone book
Interface Bluetooth specification 1.1, with supported profiles GAP, SPP, HFP, OPP, and FTP.
Operation time Up to 5 h
Standby time Up to 150 h
Operating temperature +5°C up to +55°C
Battery Rechargeable 300 mAh LiPo
Compatible Nokia chargers AC-1, ACP-8, ACP-12, LCH-12
This modern headset comes with basic handsfree functionality and a convenient over-the-ear concept providing excellent audio quality.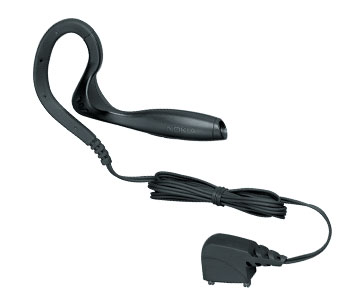 ■Bluetoothのヘッドセットレビュー











海外の携帯電話やBluetoothヘッドセットが海外から直接購入できます。


(私も購入しましたがサポートがしっかりしていたので、安心できました。)